The

Baltimore Film Office

, a division of the

Baltimore Office of Promotion & The Arts

, announces the 13th annual

Baltimore Screenwriters Competition

.

In the feature category, the first place winner receives

$1,500

, an all access pass to the 2018 Maryland Film Festival, a Weekend in Baltimore Package, a rental car for the weekend and passes to area movie theaters. The second place winner receives

$750

, an all access pass to the festival and movie passes. The third place winner receives

$350

, an all access pass to the festival and movie passes. In the shorts category, winners will receive cash prizes.

The Baltimore Screenwriters Competition is open to all screenwriters. Submitted scripts receive coverage from students in the Johns Hopkins University and Morgan State University screenwriting programs and by local screenwriters and producers. The final screenplays are judged by film industry professionals including writer

Norman Steinberg

("Blazing Saddles," "My Favorite Year"), producer

Nina Noble

("The Deuce," "Treme," "The Wire"), producer and studio executive

Larry Kostroff

("The Gumshoe Kid," "When A Stranger Calls") and actor, writer and director,

Roger Guenveur Smith

("Rodney King," "A Huey P. Newton Story"). Winners of the competition are announced during the

2018 Maryland Film Festival

on

Saturday, May 5, 2018

.

The Baltimore Screenwriters Competition is a project of the Baltimore Film Office at the Baltimore Office of Promotion & The Arts, in conjunction with film programs at Johns Hopkins University and Morgan State University. Funding is provided by The Arts Insurance Program, a division of Maury, Donnelly and Parr. Additional support is courtesy of the Maryland Film Festival, NEXTCAR and Visit Baltimore.
The Baltimore Film Office is a division of the Baltimore Office of Promotion & The Arts.
Take a look back at the winners of the

12th annual Baltimore Screenwriters Competition

below:
In the feature category, the winners

were

Evan Balkan

,

Miceal O'Donnell

and

Starr Harris

. In the shorts category, the winners were

Warren Watson

,

David Ruiz

and

David Joyner

. Winners receive prizes, including cash and all access passes to the 2017 Maryland Film Festival. The competition is designed to create awareness of screenplays as a literary art form and to encourage new screenwriters into the entertainment industry.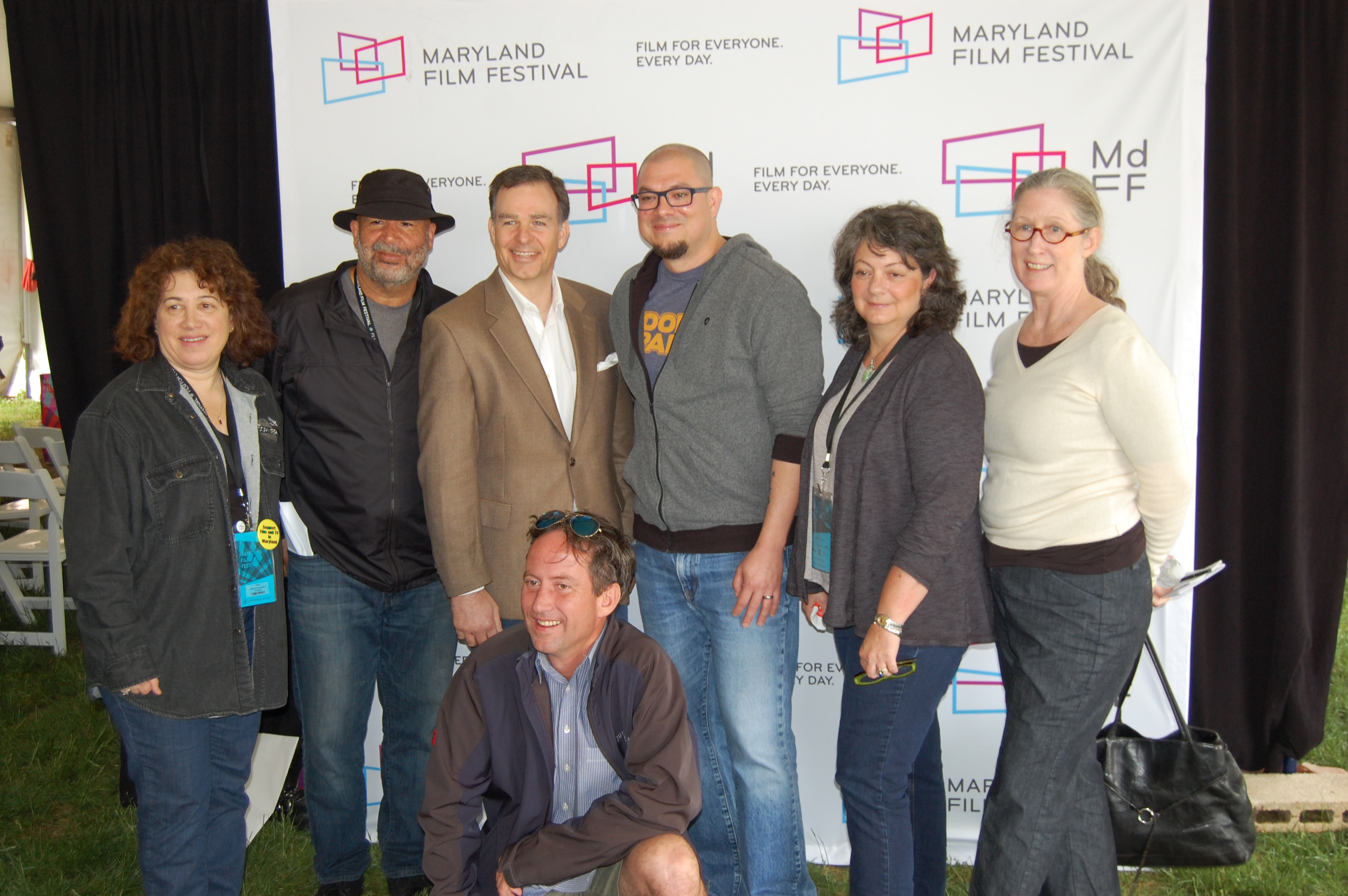 Image Credit (Left to Right): Nina Noble, Keith Mehlinger, Warren Watson, David Ruiz, Debbie Dorsey, Trish Schweers, Eric Bannat (in front)


Image Credit (Left to Right): Evan Balkan, winner of the Features Category, 2017 Baltimore Screenwriters Competition
2017 FEATURE WINNERS
First Place: Evan Balkan, "Children of Disobedience"

– Ryszard Flintlock is an ex-rock megastar now well past his prime. Forced to move out of his home, he takes a room in a house with Sonia Farfelli and her son Sammy, who is twenty years Ryszard's junior and fresh from leaving the seminary after less than one semester. Both men are lost in in need of a real and lasting bond, a relationship that provides depth and comfort. "Children of Disobedience" is the story of how they find it in one another.
Evan L. Balkan's screenplay Spitfire, adapted from his novel of the same name, won both the 2016 Baltimore Screenwriters Competition and a Saul Zaentz Innovation Fund Fellowship. He is a co-writer for the television series, Wayward Girls, which will be shooting its pilot in fall 2017. He is the author of six books of nonfiction, including The Wrath of God: Lope de Aguirre; Revolutionary of the Americas (Univ. of New Mexico Press) as well as many essays and short stories in an array of publications. His novel Spitfire is forthcoming from Amphorae Publishing. He coordinates the English Department at the Community College of Baltimore County, where he runs the creative writing program, and is an adjunct faculty member in the Johns Hopkins University's graduate Teaching Writing program. He holds degrees in the humanities from Towson, George Mason, and Johns Hopkins universities. The latter degree is in creative writing with a fiction concentration and his thesis project, the novel Root That Mountain Down, won an Individual Artist Award for Fiction from the Maryland State Arts Council and was subsequently excerpted in the Baltimore Review. He has served as a guest lecturer at Yale, Johns Hopkins, Bryn Mawr and many other institutions.
Second Place: Miceal O'Donnell, "Little Pig , Little Pig"

– Dorothy, a doctor's wife and mother in the 1950s, struggles between satisfying her responsibilities to her family and her dreams of pursuing life as an actress. When Dorothy's fellow drama school alumni gather at a house party late in the summer, they reenact a scene from one of their musicals, and her passions are re-ignited.
Miceal O'Donnell is a graduate of St. Joseph's University where he received his Bachelor's degree in Fine Arts. Post-graduation, he was a studio assistant under internationally acclaimed artist Ron Klein, studied fiction writing under Pulitzer Prize winner Stephen Dunn, and was a baker until joining the U.S. Coast Guard in 2000, where he served as a Coxswain, Federal Law Enforcement Agent, performed Search and Rescue missions, and was the unit's EMT and training Petty Officer. During his time he earned the Coast Guard Achievement Medal. He resided in New Orleans for ten years where he made a number of micro-budget feature and short films, shot a short film in Berlin, Germany, and moved to Baltimore, MD with his wife in 2012. His feature film, "Dante and Minnie," screened at the Baltimore International Black Film Festival in 2015. Most recently he released a web series, "Blue Light," about a 1950s housewife, Mildred, who comes home to find people from the future talking to her through her television set.
Third Place: Starr Harris, "Storms in London, Paris"

– "Storms in London, Paris" is the story of a brother and sister whose mother was accidentally killed by the police while trying to defend their father and how that tragedy manifested its effects in their adulthood.
A New York native, Starr moved to Baltimore with her family at the age of 12. She is a 36 year old single mother who attended Howard University and received a master's degree in film in 2009. Starr has been writing stories since she was a small child and has always had a love for film. It is her dream to motivate and uplift people with her stories and to become one of the most prolific screenwriter's in film history. Starr currently works as a full time freelance writer as well as a substitute teacher by day and she waits tables at night. She works very hard to provide for herself and her daughter and will continue to follow her dreams of screenwriting and be an example for her daughter to pursue hers as well.
2017 SHORTS WINNERS
First Place: Warren Watson, "Redemption Song"

– Two men from vastly different backgrounds try to reconcile their differences in the wake of the 2015 Baltimore riots.
Warren Watson is an actor and production professional with over 25 years in the television and film industry. Warren has acted in feature and short films, national television programs and commercials. On the production side, Warren has been a cameraman for such shows as "Modern Marvels," "America's Most Wanted," "E! True Hollywood Stories" and many others. Warren has also been a Producer for "Bikeweek," "World Business Review," Retirement Living Television and numerous corporate productions. "Redemption Song" is his first attempt at screenwriting.
Second Place: David Ruiz, "The Century List"

– Norman Riggs, a former soldier who fell on the battlefield during the Spanish-American War, is recruited by "Joseph" in the afterlife to take on the role of Death for 100 years. Here, he hopes to find redemption and receive another chance at a new life to do things the right way.
As the first American born to an Argentine family, American cinema made a huge impression on David from an early age. From studying Theatre in high school and working at Blockbuster (yes, back when they were plentiful), David fully immersed himself in film.
In addition, David is a writer of memoirs. He created his own website, The Moron Editorial, in 2008. He self-published his first e-book in 2013, entitled The Moron Editorial: Volume 1, with the follow-up set to release in summer 2017. David is honored to participate in the Baltimore Screenwriters Competition for the first time.
Third Place: David Joyner, "K1ng_Pe5t"

– When teenage sisters skip Christmas with Grandma to play video games, their world turns inside out. They use cheat codes to access new game features, but the characters in the video game have their own cheat codes.
David is a mathematics professor at a local college who has been writing technical books and articles for over 30 years. His short "Quantum Insurance" won the 2015 Baltimore Screenwriters' Competition in the short category. His (self-produced) narrative film projects include "Beyond the Door" (a short based on a story by P.K. Dick), "Quantum Insurance" (short based on the BSC award-winning script), and the web series "Tam's World" (based on an original script, using characters from Quantum Insurance). His non-fiction article "The man who found God's number" won a 2015 Polya Award from the Mathematical Association of America. He and his wife Elva live just outside Annapolis, Maryland.